The Eternal Connection Between Mouth and Heart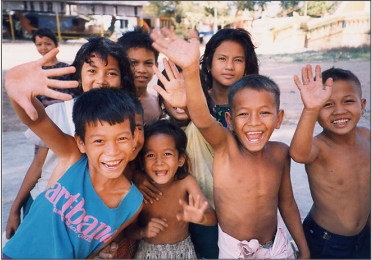 It seems odd to say that there could be an eternal connection between having healthy teeth and gaining a healthy spiritual heart, but in Cambodia that is true. The way to a man's heart has proven to often be through his mouth!
Nhep Pech came to faith in Christ at the age of 19, the result of her brother's persistent witness. In 1975, the Pol Pot regime took over Cambodia. Nhep, then a dentistry student, was considered a professional, and therefore a marked woman to a government that considered the "intelligentsia" to be expendable. On three separate occasions, Nhep was sentenced to die and on all of those occasions God miraculously spared her life and used her to minister to others in the camps where she was being held. In 1981, after the fall of Pol Pot, Nhep was able to return to her practice as a dentist after completing her studies. Here, too, she was able to witness for Christ as she travelled throughout the poorest regions of the country. Out of those opportunities churches have been born.
Oeut also survived the terror of years in Cambodia under the Khmer Rouge. He and his family immigrated to Canada in 1980 but it wasn't until 1990 after being miraculously healed from a serious kidney condition that he realized that all he had read in the Bible was true. In the hospital he accepted Christ as his Saviour.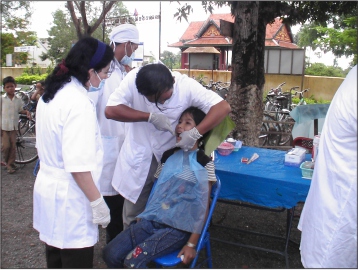 The Pechs, burdened for their countrymen, asked Fellowship International to support them in a return to Cambodia as Finishers* to evangelize using a mobile dental clinic as an entrance into the homes and hearts of the people in the Kampong Cham and Siemreap provinces. Since their arrival in 2007, God has blessed not only their humanitarian ministry but has also established three churches through their witness and exposed hundreds of people to the Gospel.
Let them introduce you to Mr. Thou Chim, one of the many whose lives have been impacted by the presence of Nhep and Oeut Pech.
"In 2009, Thou Chim, a young Cambodian with limited resources, began training as a dental nurse in the school where Nhep teaches. We shared the Gospel with him and he began to visit us in order to study the Bible as well as help Nhep sterilize our dental instruments. Thou soon committed his life to the Lord Jesus. He brought his friends to hear the Gospel and several became Christians.
"Seeing his zeal for Christ as well as his sense of responsibility for his work, we invited him to work alongside Nhep as an assistant in the mobile dental clinic. After his graduation as a dental nurse, he is slated to work at a health center in Chamcar Leu, 50 km from Kampong Cham."
The mobile dental clinic has allowed Nhep and Oeut to touch thousands of lives. Since May 2009, when the mobile clinic was started, more than 5,500 patients have been treated and 6,000 toothbrushes and tubes of toothpaste have been given out. Every patient hears the Gospel message. Oeut writes: "By God's grace…there are 331 new believers and…three churches were planted in Bosknor, Ta Néng and Bang Her Klèng."
BUT THE ABILITY TO CONTINUE THIS MINISTRY DEPENDS ON FUNDING and that funding is running low. You can help maintain that eternal connection between mouth and heart through your generous contributions to FAIR on behalf of Nhep and Oeut Pech. Here's how it breaks down.
Between 25 and 30 patients are treated each week, or between 100 and 120 patients per month. Based on the number of patients treated, this "mouth to heart" project needs: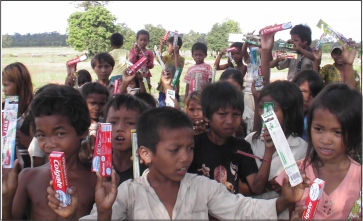 Extractions—$260-$340 per month
Fillings—$180 per month
Cleaning—$64 per month
Toothpaste and brush—$18 per month
Assistant—$100 per month
Driver/Helper—$80 per month
Fuel—$200 per month
It amounts to $5 or less per patient—peanuts to us in Canada, yet a whole lot to poor, rural Cambodians. But of far greater value is the impact of this ministry on the human heart. No dollar amount can be fixed to the value of people like Thou Chim, who have come to know Christ because of the ministry of Nhep and Oeut Pech.
This fall and Christmas season FAIR is seeking to raise $20,000 which will help to keep this ministry operating for the next year and a half.  We encourage you to partner with us in this project using our secure online site.
The mobile dental clinic cannot continue to function unless we put our money into someone else's mouth by donating to this project through FAIR. It might only be a very short distance between the mouth and a changed heart.
FACTS ON CAMBODIA
Cambodia has a population of over 14.8 million and is the 70th most populous country in the world.





The official religion is Theravada Buddhism, which is practiced by approximately 95% of the population. Adherence to Buddhism generally is considered intrinsic to the country's ethnic and cultural identity.





The 2008 Cambodian census estimated that 77.6% of the population was literate.





Cambodia has one of the lowest annual incomes in the world even though it has one of the best economic records in Asia. Agriculture dominates.





The Vietnam War extended into Cambodia, during which the Khmer Rouge took Phnom Penh in 1975 and later carried out the Cambodian Genocide from 1975-1979.





The Khmer Rouge, led by Pol Pot, took power in 1975. The new regime immediately evacuated the cities and sent the entire population on forced marches into rural areas to work projects. They attempted to rebuild the country's agriculture on the model of the 11th century, discarded Western medicine, and destroyed temples, libraries, and anything considered Western.





Estimates as to how many people were killed by the Khmer Rouge regime range from approximately one to three million; the most commonly cited figure is two million (about a quarter of the population). This era gave rise to the term "Killing Fields". Professionals, such as doctors, lawyers, teachers, as well as Christians were also targeted.





In recent years, reconstruction efforts have progressed and led to some political stability through a multiparty democracy under a constitutional monarchy.





One of the largest challenges facing Cambodia is the fact that the older population often lacks education, particularly in the countryside, which suffers from a lack of basic infrastructure.




* Finishers is a special Fellowship International program that provides service opportunities for those who are retired.