Leadersfor... Ward for the Kingdom
A busy pastor's life doesn't allow much time, if any, to improve his pastoral skills, increase his knowledge, or sharpen his "iron" against the "iron" of other spiritual leaders. While a pastor should never become indispensable, his prolonged absence from his church for training can result in hardship for the congregation. Few pastors in developing countries can afford to pay for theological training even if the opportunity presents itself.
Such was the case in Honduras. Through an incredible series of providential circumstances, the congregation of Huron Park Baptist Church in Woodstock, ON, was asked to oversee the pastoral training of the Honduran Baptist Convention, an association of 350 member churches. After a year of meetings, a strategy was developed to reinvent the way the Honduran convention trained its pastors. The "new" church-based model to learn and do ministry was actually the old one used by Christ and the Apostles—Training pastors and leaders in the church to learn to think biblically, and to train them to do ministry hands-on also in the church, and to "commit these to faithful men who will be able to teach others also" (2 Timothy 2:2).
Huron Park committed itself to assist the Hondurans over a period of five years. As the team grasped the magnitude of such a ministry, they realized the wisdom of looking for other resources to help them with their mission. That brought them to a partnership with Fellowship International, combining the passion and vision of the team with the expertise and networking of the mission. As of 2014, LeadersFor has become an official ministry of The Fellowship.
By June 2012, the first generation of pastors had trained 125 full-time serving pastors and 525 "Timothys" who are already leading church plants or assisting pastors and serving in teaching in their own locations.
In 2011 a new cohort in Honduras was started among the Garifuna people in the northern city of La Ceiba. In 2013, two more cohorts sprang up, one in the Garifuna language, and another in the Miskito language. The same remarkable results are now being seen on three continents.
Fellowship International's LeadersFor ministry partners with Canadian churches whose "missions" vision includes leadership development. It alsoconnects Canadian pastors with their international counterparts for the purposes of leadership development and also mentorship and coaching in developing local pastors. It uses the international church-based curriculum produced by BILD, The Biblical Institute of Leadership Development in Ames, Iowa. Currently, there are two certificate levels being offered, consisting of five courses in each level. Ministry, personal enrichment, character, academic competence and first principles are themes throughout the program.
Fellowship International's LeadersFor Projects have been completed in Guatemala and Uganda. They are are being carried out in El Salvador, Honduras, India, Kenya and the Philippines. We are in discussion with a number of other opportunities.
One of the exciting developments, as LeadersFor has grown is seeing participating pastors become teachers, and national leaders taking the reins of the training movement and developing other leaders.
How do the pastors feel about their participation in the LeadersFor program?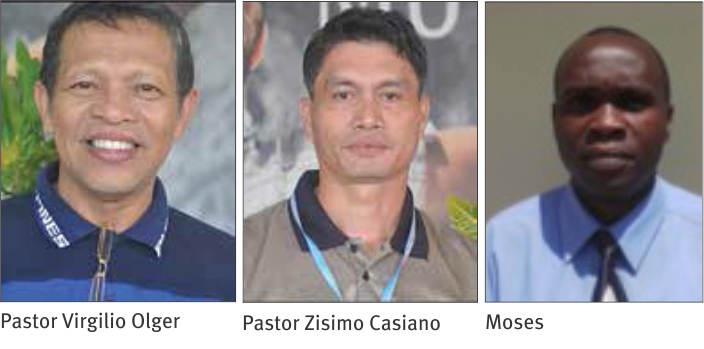 Pastor Zosimo Casiano, Philippines: "When I first saw the material you were teaching, I thought I had wasted my time because it appeared so elementary. After the training, I express my appreciation as I now understood the new tools you had given me to go deeper in the Word of God and to do the same with other 'Timothys,' faithful men who will be able to teach others."
Pastor Virgilio Olger, Philippines: "We don't need to go to seminary because you have brought the seminary to us."
Moses, Uganda, led a group study using the First Principles booklet, Participating in the Mission of the Church. As they concluded their last meeting the students said, "We can't just walk away from this study. We need to plant a church." With Moses' help they chose a location and planted a church!
Isaías Ortiz, Honduras: "I thank God for giving me the privilege of participating in this ministry ETBILD. What I like best is that this method helps us think biblically as we teach different congregations to be doers of the Word, using the first principles of the Church."
Miguel Valladores, Honduras: "I thank God for the studies with ETBILD because this has helped me a great deal as far as knowledge and spiritual edification is concerned, and being able to help others with the Word of God for the growth of the local church."                                                                                    
Fellowship International's LeadersFor ministry welcomes partnering churches who see the need and heed the call to join other churches in this new paradigm of missionary work and leadership development. Churches can either join a team to assist in existing projects, or take responsibility for new ones.
For more information on LeadersFor, visit fellowship.ca and follow the links.
---
Fellowship Leadersfor Coordinator
Hannibal Muhtar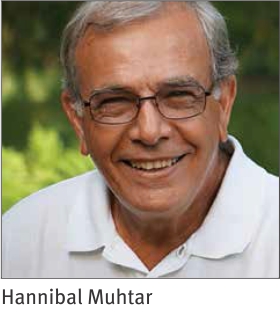 I became a follower of the Lord Jesus Christ at the age of 17 in Beirut, Lebanon, where I was born. My pastor used the church-based approach to train and equip me to serve in the church and to do ministry. During this process he stressed the price God paid for our salvation and urged me to always live the Gospel message and share it wherever I worked or lived. I also studied agriculture and earned a doctorate in agricultural engineering.
We worked long-term in seven countries and did short-term assignments in 45 others, focusing in agricultural development and relief. My international work in development has opened doors for me in understanding the challenges local churches, and their pastors, face—the lack of equipped leaders. In my role with The Fellowship I coordinate the ministry of LeadersFor, equipping local pastors to develop their church leaders and establish their churches.
—Hanni and his wife, Mary, live in Woodstock ON and are members of Huron Park Baptist Church. They have four children.