Leaving Behind a Legacy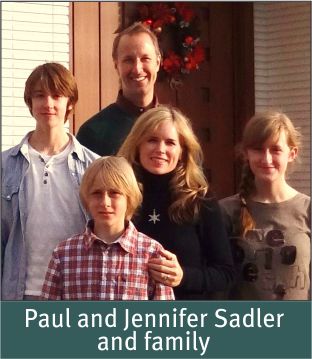 Fifteen years ago Paul and Jennifer Sadler, with their young family, responded to Godís call to plant a church in Japan.† Church planting was known to be challenging but they faced the daunting tasks of learning the language and understanding their adopted culture.† They believed that the church should missionally impact and serve its community with a consistent outward focus.† Today, Tsukuba Grace Chapel is the result of Godís blessing on their faithful ministry.† A community of believers, under national pastoral leadership, located in the heart of Tsukuba, where science and research influence society, is a testimony to Godís grace.† Paul and Jennifer lived out their faith, built relationships, shared the Gospel, and mentored leadership, all within their personal context of constantly growing in their communication and cultural skills.† They exemplified what it demands and means to sacrifice and serve across cultural barriers. Tsukuba Grace Chapel has imbedded in its DNA the vision to reproduce itself, and outreach ministry has already started through opportunities afforded by tsunami relief endeavours.† The Sadler family leave a legacy, as Fellowship International missionaries, that our Canadian churches can learn from and be proud of.† Fellowship International holds them in high esteem as faithful, effective servants.† But, as Paul and Jennifer expressed recently, it was not accomplished alone. They wrote,†ďThe faithfulness of Godís people and the relationships we have formed with many in our supporting churches over the last fifteen years have been among the greatest privileges we have experienced as missionaries.Ē††We desire Godís continued blessing on this family as Paul has assumed the senior pastoral leadership of Grace Baptist Church in Richmond Hill, Ontario.
óNorman Nielsen is Associate Director of FAIR and Fellowship International.