Missio Dei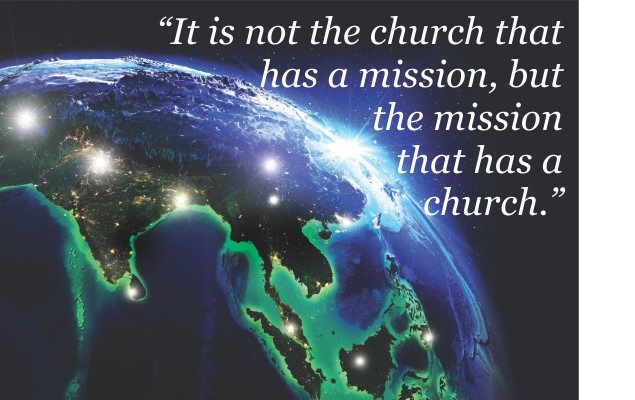 "Missio Dei" is best translated as the "mission of God," for God is a missionary God. Jurgen Moltmann wrote: "It is not the church that has a mission of salvation to fulfill in the world; it is the mission of the Son and the Spirit through the Father that includes the church."
This phrase has been transformed into many different expressions, but has generally been accepted as this familiar statement: "It is not the church that has a mission, but the mission that has a church."
Theologian David Bosch writes: "Mission is not primarily an activity of the church, but an attribute of God." We are never more like God than when we're on mission. And so, Alan Hirsch declares, the church on mission "goes to the heart of the very nature and purpose of the church itself."
In other words, the church that prevents the mission from flowing freely, blocks God's very purpose for His people.
Missio Dei is the Christian's reason for being. We miss the whole point of life if we don't get this right.
The Expanding Influence of God in Our World
The mission began with our Triune God: The Father sent the Son, the Son sent the Spirit, and the Spirit empowers the church to fulfill God's mission. As God's redeemed children we are privileged to participate in the advancement of His kingdom. Our mission is not the mission of the church (missio ecclesiae), but the mission of God (missio Dei). The mission, God's mission, found a church and is transforming the world.
The fire of the Spirit is catching hold like a spark that sets off waves of flame in a tinder-dry forest. As the Gospel is proclaimed, its life-changing effects are expanding like the ripples in a pond when a pebble is dropped into it. Report after report tells the larger story of what God is doing in our own communities and in the cities and villages around the world. It's an incredible story.
And while we continue to participate with God in the writing of the story, and there are many uncertainties ahead, the good news is we do know the end of the story—spoiler alert—God wins! Our missionary God fulfills all His promises and redeems His creation and creatures to Himself.
This issue of THRIVE seeks to tell some of those stories. Our Fellowship is privileged to serve God and participate in His mission. I trust you'll be inspired and encouraged to get on board as you hear testimony of this mission through the ministry of our churches, members, missionaries, and chaplains. May God gain all the glory.