Investing in the Future
The Fellowship Foundation
In Matthew 6:19 - 20 Jesus says, "Do not store up for yourselves treasures on earth, where moth and rust destroy, and where thieves break in and steal. But store up for yourselves treasures in heaven." Devoting ourselves and our resources to the work of the Kingdom is a biblical principle.  Providing one another with the tools and the advice to do this well is part of the mission of the Foundation.
The Fellowship, as a Canadian association of approximately 500 churches within five regions who voluntarily network together, is a biblically-based movement longing to impact Canada and the world with the Gospel of Jesus Christ.
Generating income for ministry and loaning funds to churches are two of the primary goals of the Fellowship Foundation. The Foundation makes it possible for those committed to the Fellowship and its ministries to create a strong financial base that will continue to impact the spread of the gospel in Canada and around the world.
The board of the Foundation spent a great deal of time over the past year in securing prudent, knowledgeable investment expertise. Numerous potential service providers were interviewed and, after much prayer and deliberation, the board decided to invest with CI Institutional Asset Management. We are pleased to open this channel to churches and other Fellowship-related ministries seeking investment expertise. Financial markets are increasingly complex and constantly changing. Making wise and effective investment decisions on behalf of others without incurring large fees is an onerous fiduciary responsibility for many church and ministry boards. The Foundation board, the experts, and CI can help. Several churches and ministries seeking to maximize investment income for ministry purposes have already approached us. 
The creation of the Foundation, and the recruitment of board members specifically for it, provides a high level of both ministry focus and investment expertise. Our board members are people who have a history of commitment to the Fellowship as well as financial expertise. Doug Blair from Sarnia, ON is a pastor at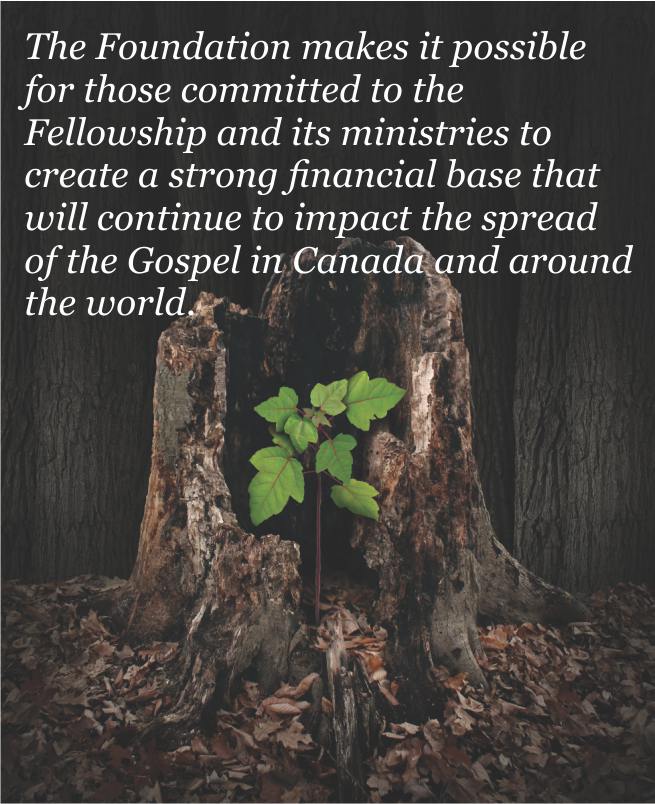 Bluewater Baptist Church. He has served on various Fellowship Boards and Councils for more than 40 years including the Fellowship's Finance Committee. Larry Nelson from Vancouver BC, a Chartered Professional Accountant who provides advice to numerous charities on investments and governance, is past Chair of National Council and former CEO of Baptist Housing. Rodger Flemming from Huntsville ON is a retired Investment Manager.  Rodger's brothers are Bob Flemming, FEB Central Director and Richard Flemming, Fellowship International missionary to Congo and Eastern Coordinator for the Fellowship Ministry Advance Team.  Two additional board members, Dr. Lawrence Olfert, Drumheller AB, and Carol Stewart, Surrey BC, are appointees of the National Council. Fellowship President, Steve Jones, and the Chair of National Council, Paul Johnson, attend Foundation board meetings.  The depth of commitment to the Fellowship and collective financial expertise of the board offers tremendous support. 
The Foundation makes it possible for the leadership of the Fellowship to focus on ministry, leaving it to deal with large gifts, investment management, loans and other financial matters. Ongoing donations that directly support current Fellowship ministries should still be sent to the Fellowship. The Foundation will receive large gifts intended to generate investment income for future ministry. Investment income can be directed by the donor to any ministry mandated by the Fellowship. Once the Foundation has a strong base of capital funds we will loan a portion of the fund to churches for land acquisition and building construction.
Planned giving is a growing focus of stewardship in Canada. It provides assistance to anyone who wants to make a large donation or estate gift. This is a big decision and those wanting to make significant financial determinations would benefit from professional help. It is important to us that the Fellowship employ the right person to assist people in this deeply personal, Spirit-led area. It is a joy to announce that
Gord Baptist has recently accepted the position of the Fellowship Advancement Director starting January 1, 2016. Gord is no stranger to the Fellowship family. He has served as our Fellowship Pension advisor for many years, supplying financial counsel to our pastors and mission personnel. He will continue to provide this financial service to Fellowship pastors and personnel. Gord was raised in the home of a Fellowship Baptist pastor (Lambert and Marie). He is married to Vicki living in London, ON. He leaves SunLife Financial after 36 years to serve with our Fellowship. Gord looks forward to talking and meeting with those individuals and churches interested in more information regarding the Fellowship Foundation. 
—Carol Stewart, CPA, CA, MTS, BBA is the Chair of the Fellowship Foundation Board and is also a member of faculty at the School of Business faculty at KPU in Richmond, Surrey, and Langley BC. Carol served on the National Council from 2001 to 2007 and 2009 to 2015. 
History of a Foundation
The Fellowship Foundation was issued articles of incorporation on October 26, 2012.  A Task Force from National Council comprised of Carol Stewart, Dr. Lawrence Olfert, and John Tedford drafted and presented Bylaws to the Council for their approval in May 2013.  The Foundation received registered charity status from Canada Revenue Agency (CRA) on May 1, 2014. A brochure was prepared and the Foundation was announced at the Fellowship National Conference, November 12, 2014.  The Foundation board would like to thank Rob Cole, Fellowship Services Director, for facilitating the work of the Foundation and serving as our Secretary-Treasurer.