Orphans
Hala — meaning beauty in Arabic — is the name of one of the girls who has recently joined our family here at Cedar Home. When her mother contacted me through a mutual friend I visited Hala in her home, which was in a nearby town. It took me a fraction of a second to decide to take her in once I saw her living  conditions. Hala wasn't an orphan, but as the Arabic proverb says, she was living out of "scarcity of death", meaning that death is better than what she was living through!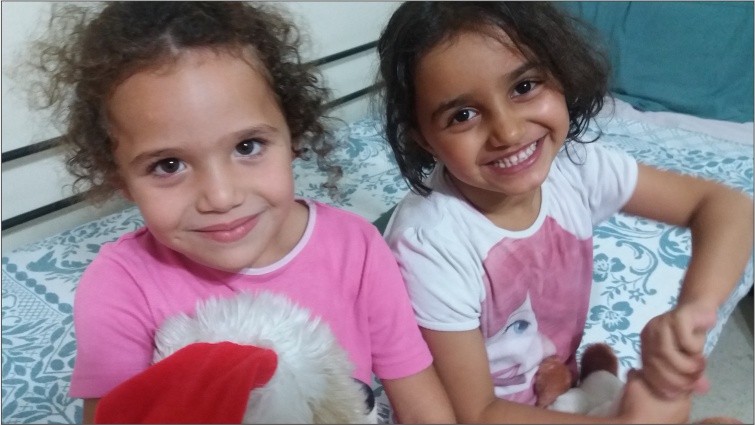 Her mom and dad, who are illiterate Syrian refugees, said to me: "Mr. Karim, take our daughter. We ask Allah to provide a better future for her through your organization." Those were the words of Sunni Muslim parents that surrendered the fate of their only child — six-year old Hala — to a Christian organization because of the stories they heard about Cedar Home and the Christian Canadian-Lebanese family raising the children there.
Miraculously, Hala was registered at the nearby public school, where she is enjoying every minute of her class. To a Syrian refugee in Lebanon, school is a luxury as very few are able to have a formal education.
One of Hala's friends is her roommate, Jumana, a very talkative six-yearold girl. Jumana, a people-person at  heart, joined the Cedar Home family on the same day as Hala, the second of September, 2016. What they both have in common is the need for a safe and loving place to live. 
We can never forget Hala and Jumana's expressions when they first saw their room. They were overjoyed to see colorful bed sheets with bunnies on their beds, clean and warm — something they never had before! Jumana had never even experienced sitting on a chair prior to coming to Cedar Home. Her mom had never owned a chair; instead they lived on mattresses on the floor.
Jumana is stateless, which means she had no official ID. In spite of this, she can be easily identified as a brilliant child by the way she talks and interacts with people. What's striking about Jumana is that ever since first going over the house rules with my wife, Rita, Jumana has been winning the behavior contests consistently! After having lived in a tent with no structure or form of discipline to guide her, Jumana naturally "clicked" with our house rules. We pray that she continues to do what's right in life, even after her time at Cedar Home is complete.
Cedar Home is currently helping 19 resident girls and 10 non-resident girls. We encourage you to partner with us through sponsoring one or more girls financially, and/or sponsoring one of our projects which benefits both new and current girls. Examples of this include the Guest House project which is an income-generating project for our home, or the New Home project which allows us to take a greater number of
new girls into our care. 
Girls like Hala and Jumana deserve a better life — they deserve to experience safety and security, and the
all-changing love of Christ. With your help, they can!
— Karim Anayssi serves as Executive Director of the Cedar Home Orphanage for girls in Lebanon through Fellowship International.
Save