Finding Fingerprints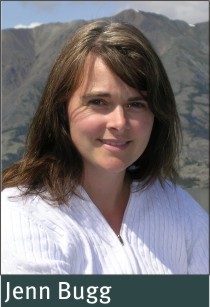 "How have you seen God's fingerprints lately?" I read that question in Laurie Kennedy's article on this edition of Thrive. It leaped off my computer screen and grabbed me.
How have I seen the fingerprints of God lately? Let me think.... I'm a do-er. I do and do and over do. I get into the rut of getting done what I'm doing so I can get on to the next thing on the to-do list. Yikes. When that's written down it looks really sad.
And where is God in all of this? Where are his fingerprints? Fingerprints are small. I think that I need to slow down and look around for these small, and yet huge, evidences of God's work in my life. I don't want to be so busy that I miss any of them.
I have things that I love to do, but I struggle to squeeze them into my life. Recently, I've realized that these things show me God's fingerprints. I've since incorporated them into my "big" values. In his book When Life's Not Working, Bob Merritt speaks of limiting yourself to a reasonable amount of things to pour your time into—things you make time for. These will be different for everyone, but I think it's important to value things that show me God. Here are two (of six) things I value:
I have a garden and greenhouse full of vegetables. Showing my sons those sugarsnap peas poke up through the ground that not long ago was minus 20 is awesome. Rows of raspberries that return each spring speak of God's faithfulness. The earthy smell wafting from the compost heap reminds me of God's attention to detail.
I also like to trail run. Fortunately (or is it God's fingerprint?), I live in one of the most beautiful trail-running places in the world. I can leave my front door and by the time I've finished my first kilometer, I'm surrounded by trees and mountains and the impossibly green Yukon River. The laugh-out-loud beauty of a grand vista, each pine needle, each fireweed flower, the bear that I hopefully won't see, each mountain peak that is just beyond view--God's fingerprints are all over those.
And God's fingerprint is never more evident then when my six-year-old son says, "can we have a devotion?" Or my three-year-old spontaneously apologizes for "disbeyin'" (these are of greatest value). Or that financial situation that seems impossible somehow gets resolved. I think the fact that Laurie Kennedy included that question in his article was evidence of God's fingerprint in my life. God is here, speaking to me.
And we can be sure that if God's fingerprints are all over one individual, his church is messy with fingerprints.
This issue of Thrive is loaded with God's fingerprints. Each Regional director has prepared an article that shares those fingerprints that they have seen lately. Don't miss the "Stories worth Sharing" about two exciting prayer weeks on either end of our great country. And the "News worth Noting" focuses on God's fingerprint on a building in Montreal-North.
How have you seen God's fingerprint lately—personally or at your church? I would love to hear your story. Please email me at eb@fellowship.ca.
P.S. Stay tuned for a review of the book When Life's Not Working.