After You Say "I Do"
Living Out the Covenant Relationship of Marriage
They found themselves struggling in their marriage and asked if we could meet with them on a fairly regular basis for mentoring. We agreed. After several sessions, John and Mary* came to a point where they felt that things were going better. They said they would contact us if they wanted to meet again. After a time, Dave began meeting with the husband alone. It was at one of these sessions that John shared with Dave an act of infidelity he had committed two years earlier. He confessed to Mary, and they had separated. She met with a counsellor a couple of times during that separation, and even though it was a real struggle, Mary showed grace to her husband from the beginning and her attitude became one of seeking reconciliation.
On their wedding day, this wife had made a promise to stay with her husband for better or for worse, and based on her own personal relationship with Christ and the commands in God's word, she kept that promise. Today they are living together again.
When God created the marriage relationship, He intended for it to be a relationship that was covenant-based. The word covenant [1] is similar to the word contract, but there is a difference.
Elyse Fitzpatrick, in her book Helper by Design [2] , says that a covenant is different from a contract in that "a contract always has an end date, while a covenant is a permanent arrangement. Another difference is that a contract generally involves only one part of a person, such as a skill, while a covenant covers a person's total being."
In order for couples to have all the strength and wisdom they need to live out the promises of marriage they made to each other during the wedding ceremony, husbands and wives need to believe two basic principles:
That a personal, permanent covenant relationship with Jesus Christ is the foundation for our marriages. We must be renewed and transformed by His love for us, not because He needs something from us, but because there is a void in our lives that can only be filled by a relationship with Him. We need Him.
That everything we need to help us keep our promises, those permanent arrangements we made to each other, is found in Scripture. "By his divine power, God has given us everything we need for living a godly life. We have received all of this by coming to know him, the one who called us to himself by means of his marvelous glory and excellence." (II Peter 1:3 NLT, emphasis added).
So knowing Christ, and then believing that Scripture has all the answers to questions and difficulties that arise in our marriages, are key elements in keeping the promises we make to our spouses on our wedding day.
Carol remembers a time when, after meeting with a young woman many, many times, she received an email implying that Christ was not enough, that the Bible did not "supercede" other counsellors, therapists, etc. It always amazes us when not only believers, but Christian counsellors as well, think there is more wisdom found in the human mind and psychology than is found in Scripture.
Obviously we are not suggesting that books based on Scripture, or biblical counsellors, are not helpful (in fact, one was quoted above), but as Jay Adams says, there is a biblical solution to every problem [3] and if we as couples fail to seek God's word and, with His help, obey the commands given there, our marriages will soon struggle. Eventually emotions, not the covenant promise of "until death parts us" will begin to "supercede" biblical commands.
Early on, while the couple mentioned above were separated, Mary and Carol met for coffee. Carol told her she would be praying that Mary would really begin to love her husband again. Carol's comment was met with a look of almost horror and Mary said, "Don't pray that. Pray that the Lord's will is done," to which Carol replied, "That is the Lord's will: 'that you love one another as I have loved you', Jesus said." (John 15:12 ESV). Eventually Mary realized this and she chose to obey that command as well as another that Jesus gave: "Whenever you stand praying, if you have anything against anyone, forgive him" (Mark 11:35 NKJV, emphasis added).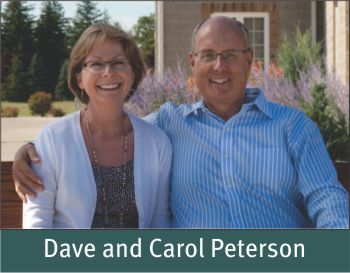 There is no closer neighbour than our spouse, and we are to love that spouse as we love ourselves. It is our prayer that as God's word permeates our lives, we will be committed to applying the commands of Scripture not only to our fellow believers, but also to our spouses. Only then will we find the grace to stand in our times of need and choose to continue keeping our covenant relationship with them.
*Names have been changed.
—Dave Peterson is Pastor of Congregational Care at Calvary Baptist Church in Guelph. Both he and Carol enjoy mentoring couples and individuals. They are also wedding officiants in Ontario.
[1] The New Unger's Bible Dictionary, Chicago: Moody, 1988, s.v. "covenant."
[2] Helper by Design, Elyse Fitzpatrick, Moody Publishers, 2003.
[3] The Christian Counselor's Manual – The Practice of Nouthetic Counseling, Jay E. Adams, Zondervan, 1973. This is an old, but very timely manual for those counsellors/mentors who rely on Scripture as the core of what they do.