A Tap on the Window
Dr. Peter Marshall served as the pastor of New York Avenue Presbyterian Church in Washington, D.C., and as chaplain of the U.S. Senate right up until the time of his death in January 1949. One of the most famous sermons by the popular Scottish preacher was entitled, "The Tap on the Shoulder." In that message he stated that, "the tap on the shoulder that called me to the ministry came to me, and this is the call that brooks no refusal – the call that we cannot ignore, the call that brings us to heel – to fall adoring and wondering at the feet of Christ."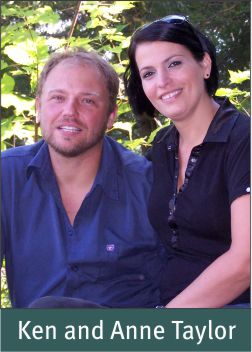 For Ken Taylor it wasn't a tap on the shoulder, but rather a tap on the window that led him and Anne to serve as church planters in Quebec. Ken came to the Lord at the age of 20, through the consistent testimony and influence of a college teacher in his native Belgium. He soon set his sights on serving the Lord, and went to Bible College in Brussels where he met Anne. After marriage, they became very involved in planting a church with three other couples in that strategic city. Eventually Ken became burdened about missions, and set his sights on serving among the poor in Africa.
About that time, he and Anne visited Quebec while on vacation, and they were invited to share their missionary vision at our l'Annonciation church, two hours north of Montreal. After the service, they returned to their car and were just getting it warmed up, because it was mid-winter, and then the tap came on the window. After Ken rolled down the window, pioneer missionary Murray Heron spoke to him gently, but with great conviction en français saying, "I want you to know that Quebec is a mission field too, and there is a great need for missionaries here as well."
That unforgettable tap on the window echoed in Ken's mind, but he was determined to go to Africa! Sometime later he and Anne visited Africa again, as they continued to seek God's clear direction for their lives. However the entire time that they were there, they seemed to be constantly receiving divine indicators pointing them towards Quebec. Eventually that tap on the window became a tap on the shoulder, and they yielded to God's call to serve in Quebec.
Following a series of unusual and often difficult circumstances in their new homeland, they were eventually led to our Terrebonne-Mascouche church—a church family with a vision to plant ten daughter churches! There they discovered that the church leadership had been praying for a church planter to be sent to the City of Saint-Eustache (north-west of Montreal/pop. 43,000)…a city that had been #1 on the "Top 10 List" of cities in Quebec needing more evangelical churches.
Ken and Anne joined the team at Terrebonne-Mascouche in September 2009, and soon afterwards began to assemble their core team for the new work. Ken drew his vision for the new work from Isaiah 58 where the emphasis is on living out our Christian lives through righteousness towards God and genuine compassion towards others in need. The new work was launched on September 26, 2010 with a zealous team of about 10-12 families from the mother church at Terrebonne, which is located about 25-30 kilometers away.
During the early months, the young church faced a number of "ups and downs", but through it all Ken's consistent preaching of the Word had a stabilizing, encouraging impact. Gradually the work began to grow and coalesce around their vision to love those in need in very practical ways. One of the groups that they have taken great joy in helping (through the auspices of a community outreach program) is young, unwed mothers who have made the courageous choice to keep their babies, rather than abort them. Ken says that their young church has now provided over 1,000 meals and they have even started a "mechanic's ministry" to help them with their car problems.
About six months after the new church had been launched, they were faced with a huge test of faith. The English-speaking church where they were meeting decided to sell their building. The young church family prayed earnestly and decided to put in an offer to purchase. Their miracle offer of $250,000 has now been accepted, and this 18-month-old work now has their very own church building with seating for 350. They also have lots of room for a terrific kitchen to feed the poor! The attendance has now grown to 80+ each Sunday and they are joyfully trusting in God for many more miracles in the months and years ahead. Praise the Lord!